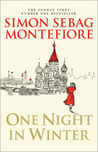 One Night in Winter by Simon Sebag Montefiore
My rating: 5 of 5 stars
I love a thriller set in communist Russia. Denunciations, threat of death or being sent to the Gulags. The tension and horror of the situation makes for excellent, dramatic novels. This is a superb example of a book set in this situation.
The novel follows the events that follow a strange game that several students play. All but one of these children belong to the people at the top of the government and they all attend the best school in Moscow – School 801. They are members of the Fatal Romantics Club who re-enact famous scenes from Pushkin's Onegin. It's whilst they are playing this 'game' that events spiral out of control. Before you know it, all the children's lives are at stake as they are taken to the Lubianka for questioning.
Montefiore handles the development of all the characters well and really does an excellent job of bringing them to life. The whole situation is almost farcical but very true as to what it was like in Russia at the time. It is loosely based on a real investigation that took place.
Great book – looking forward to reading some more novels by this author.